Q4 is holding its strength and the positive signs of growth we saw at the start of Q4 is continuing. There is an average CPM drop of around 35% as the Q4 progresses, but the advertisers are spending more as festive season grows nearer.
The case of low CPM as also showcased via programmatic partners may continue for a while, but with increased user engagement on internet platforms, publishers can stay positive that revenue drop nightmares can soon be history.
INSIGHTS:
With new product launches such as the iPhone and gaming consoles, we have seen rise in Telecommunication companies such as Verizon, AT&T, etc. and Game Developers such as Electronic Arts & Activision Blizzard advertising more aggressively.

With Black Friday in the horizon we are seeing Amazon, Walmart & Bestbuy increase their spending. We expect this trend to stay until the thanksgiving.

DoubleClick Ad Exchange, has shown a drop in revenue which has been compensated by programmatic partners such as OpenX, Rubicon, etc. CPM drop is evident here but revenue is intact as it was last year.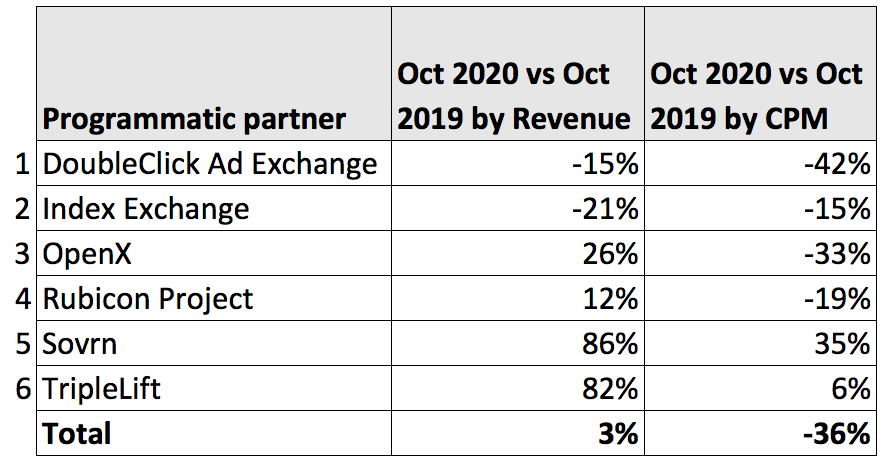 Below is the table of top advertisers based on spend. Y/Y column compares October 2019 with October 2020 and W/W column compares trend for the last 2 weeks of October 2020.
Author
Tejas Potti
Business Analyst, Tercept